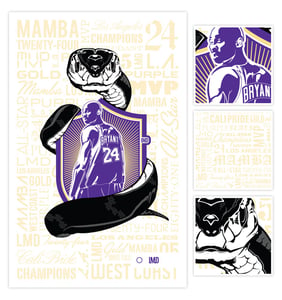 $

18.00
Land Mind Design, LMD created this graphic to recognize the efforts of the Los Angeles Lakers and LA's very finest, Kobe Bryant. Their time in the court was cut short this year, but have no doubt that the Black Mamba will come back with a vengeance.
The illustration was digitally composed and illustrated. Typography was used to add a background texture to the print and it is available in 2 different colors, gold and purple.
24 Special Edition Prints, signed and numbered.
The design was printed 11x17" on HD Digital Print , 80 lb Bright Brilliant, F.C.S Paper.
Shipping is included. All orders will be mailed within 1-2 weeks after purchase.